Skip content
Saxony was on display in Erfurt
What do alpine music, a wine queen, world-famous breakdancing, a compressed air orchestra, and bingo have in common? A lot! These highlights and other surprises awaited attendees on the Anger square in Erfurt for this year's German Unity Day festivities. The Free State of Saxony's glass pavilion presented two key elements that Saxony is especially proud of this year: Saxony as a traditional biking state – just look at Diamant – and Chemnitz, the European Capital of Culture for 2025.
The true-to-life East German garage was designed as a maker space, with presenters showing a range of crafts and technical solutions and inviting people to participate.
Highlighting Saxony through and through
The Saxonz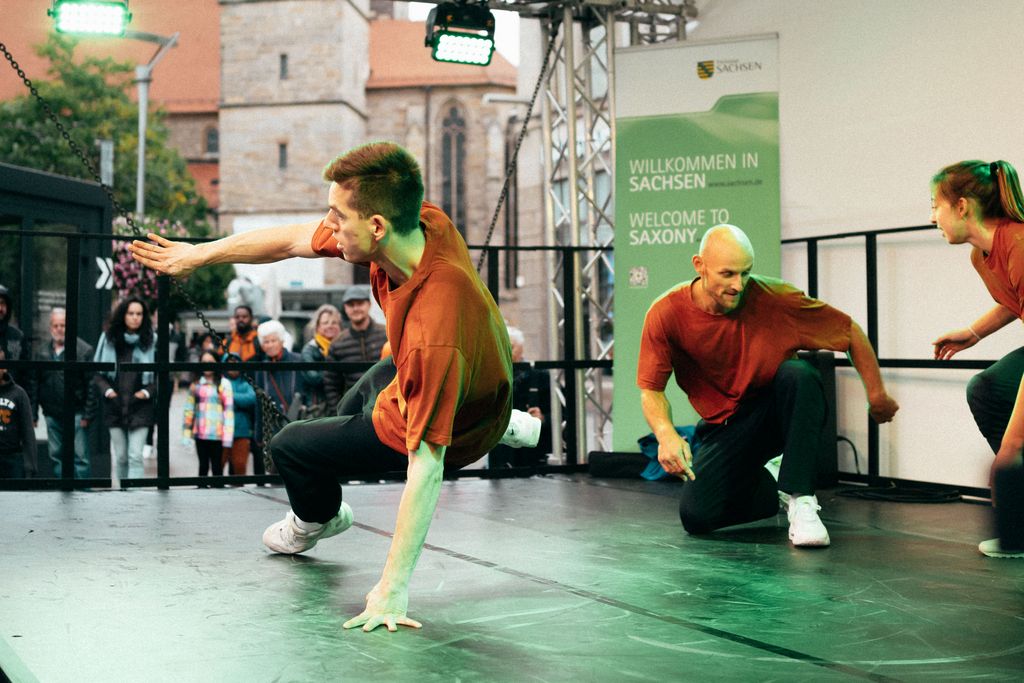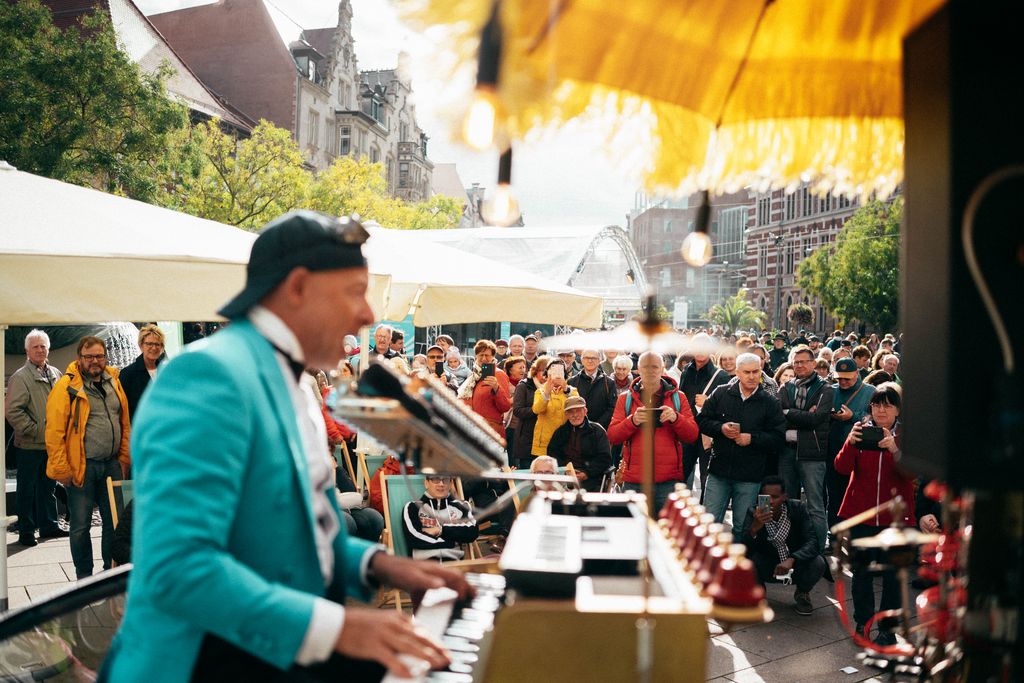 Program show: Chemnitz, European Capital of Culture for 2025
Further exciting highlights of the German Unity Day program in Erfurt
Peter Till and the Universal Druckluft Orchester
Rattling, whistling, and hissing noises like those of a steam engine rang out. "Music machinist" Peter Till is an inventor, builder, and musician, all rolled into one.
A unique ensemble of mechanical musical apparatus and the machinist behind them presented jaunty melodies and upbeat rhythms, all in a tasteful performance. A musical evergreen in Erfurt.
Jens Ausderwäsche
Art, but really art!
Jens Ausderwäsche delivers big questions and answers with composure: "When it's over, it will go on," says his new record, Mir (Me). It also asks, "When will you stay with yourself? When will I stay with myself?" Jens Ausderwäsche is always with himself, actually. He delivered witty texts, harmonious sounds, and a wealth of charm onstage for visitors to the festival.
Jürgen Karthe plays bandoneon
Jürgen Karthe is from Saxony, like the bandoneon. He was already an accordionist when he first heard the strains of the bandoneon, in 1994, and could not resist the urge to play for himself. A versatile performer, the German bandoneon player has built a career through traditional and unusual channels alike. The most noteworthy result is concerts throughout the international music world. And Erfurt is no exception there, of course.
Wee Dance Company, from the Görlitz-Zittau Gerhart Hauptmann Theater
Dance that speaks for itself: contemporary and harmonious, original, meaningful, communicative, gripping.
Ever since its founding, in 1999, the award-winning wee dance company has been viewed as one of the most substantial and versatile ensembles in contemporary dance, with a wealth of international activity. The company thrilled audiences at the festival in Erfurt.