Skip content
From student start-up to European market leader: why the social commerce company Spread Group got so many things right.
E-Commerce sales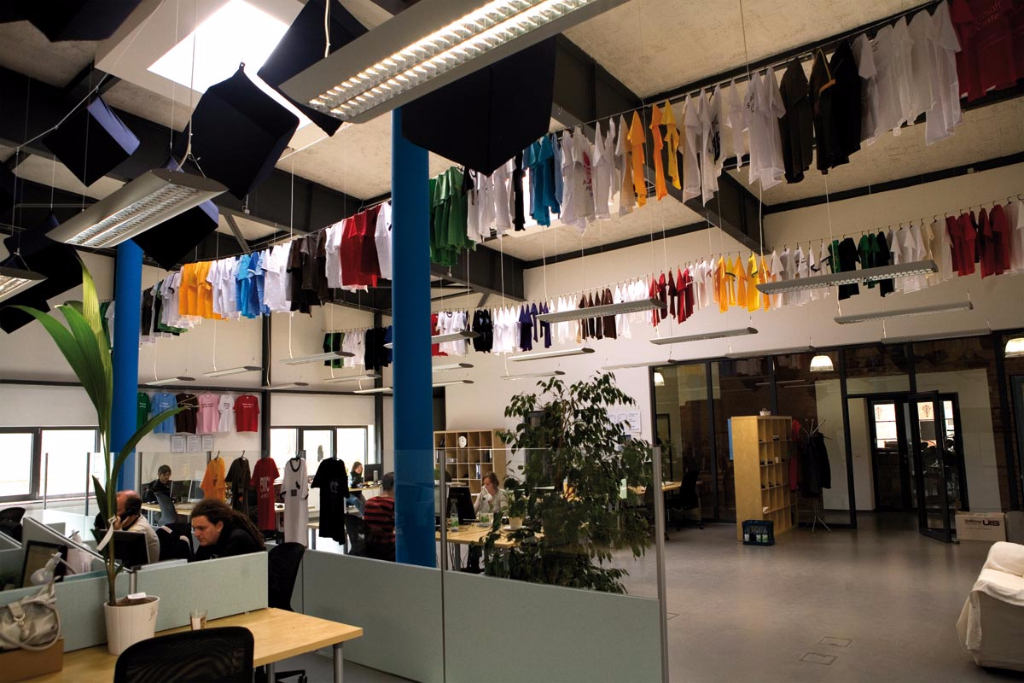 Clothing as a form of social media
Meanwhile, over 750 people work for Spread Group, and around 350 of these in the Leipzig headquarters: from customer advisers through to front-end architects, lawyers, marketing experts, and the production staff. Nonetheless, an effort has been made to uphold the sense of being a start-up. There is a relaxed atmosphere in the old factory building on Gießerstrasse, where once railway cranes were assembled. The average age of employees is around 30. Most of them wear T-shirts, some walk around barefoot or in socks. The doors to the open-plan offices are never closed, outside in the corridor people stop to chat at the coffee machines. Years ago, a feel-good manager was hired: Stefanie Frenking, who is also responsible for recruiting, brings a little bit of Silicon Valley to Leipzig. After all, feel-good managers are something we are only familiar with from large tech corporations such as Facebook or Google. "Our aim is to make people happy. We do spend a lot of time in the office," says Frenking and talks about hiking tours, language courses, flexible working hours, and yoga. Employees eat their lunch on the roof terrace. English is the common language for the staff from 27 nations. CEO Philip Rooke joined Spread Group in 2009, initially as head of sales and marketing. Then in 2011 the native Briton was appointed CEO. And he knows what he's talking about. Before signing on with Spread Group Rooke was part of the management team at British supermarket chain Tesco, considered one of the pioneers of e-commerce. Rooke summarises what Spread Group can achieve: "Today it's no longer enough to share, to like, or to tweet something. You need to wear the message emblazoned on your T-shirt." There is a high level of traffic in the Spread Group community with over 200,000 new designs being uploaded every week. To date, 2,000,000 square
metres in total T-shirt surfaces have been printed, equivalent to the size of about 280 football pitches. And the numbers are rising. The internet enables the combination of mass production and one-off items. Whether it is T-shirts, posters, pictures, mugs, hoodies or rompers: everything conceivable is ordered in the shop – providing it is allowed. Spread Group does promote freedom of opinion but it still has a department that checks the uploaded files. Providing they are not protected as a brand, and do not contain illegal or inflammatory content, they are released and made available to the community. Then the cotton T-shirts are printed at the five production locations using different high-quality printing techniques depending on requirements. Eventually, the goods are sent all around the world.
Creating new shopping experiences
Nobody today can avoid adapting their web content for use on mobile devices. This is proven by the following statistics: Over 50 per cent of all orders Spread Group received in 2019 were sent from smartphones. This trend is also borne out by current figures from the German Retail Association: almost 30 per cent of online sales are currently generated by purchases made with smartphones. And even those people who buy in stores gather information from the internet first. Language assistants are also playing an increasingly important role. Ultimately, it's always about making the shopping experience simpler and easier. Which is where artificial intelligence comes into play. Algorithmic decisions are used in a variety of ways in the retail trade: from personalised product recommendations via intelligent costing through to chat bots and promotion robots. However, the technology behind a particular solution is usually of secondary importance to customers, as they are first and foremost interested in obtaining their favourite product quickly and simply. Motivated by the desire to further extend Spread Group's reach Philip Rooke is also closely following the new trends in e-commerce. The main rival here is Amazon. In 2017, the online giant and its Marketplace already accounted for 46 per cent of online sales in Germany. The online retailer sets standards that are very difficult for small e-commerce firms to match, Rooke maintains, saying: "We must continually work hard at improving our customer services and delivery times in order to compete with Amazon." And the CEO has another ambitious goal: from its headquarters in Leipzig, the company intends to conquer the Asian market next.
Facts
Location: Leipzig
Founding year: 2002
Employees: some 750 worldwide, around. 350 of these at the headquarters in Leipzig
Management: CEO Philip Rooke
Mission: e-commerce-platform for on-demand-printing of clothing and accessoires
pictures: (c) Dirk Brzoska Fotografie