Skip content
We show who we are
Saxony is a major centre of business – and the plan is to remain so in the future. This will only succeed if we work together with the people who live and work here, and with companies that invest and operate here. And ultimately with Saxony's visitors. We want to show them all a Saxony that can proudly be called home. A Saxony that impresses with innovative strength; a Saxony that welcomes guests and friends from all over the world.
Diversity - including in practice
More than 500 brand ambassadors already advertise 'Simply Saxony.' Here you will find a small selection of co-operations that have already been implemented. Let your imagination run wild. We're looking for smart ideas, original designs and activities that stay in people's minds. Because together we are even stronger.
One message, several languages
'Simply Saxony.' is a strong, well-known and popular brand. And it is now available in several languages, including Russian, Polish, Japanese and Vietnamese. If you would like to help us make 'Simply Saxony.' even more famous internationally, we will be happy to provide you with the appropriate translation.
Common aim, fast communication
We are happy to give you access to use the 'Simply Saxony' brand. To ensure you receive the format suitable for your planned purpose, we first need some information from you. Once you have filled out the contact form and sent it to us, we will get in touch with you, so you can start using 'Simply Saxony.' quickly and easily in your advertising.
Public transportat as a worldwide advertising medium
Whether it be city bike, aeroplane or hot-air balloon, there is almost no form of transport that has not been used as an advertising medium for 'Simply Saxony.' And they are used right around the globe. For example, a Condor Airbus A320 flew Saxon travellers to their favourite holiday destinations on the Mediterranean, the Canary Islands and North Africa for an entire year with special 'Simply Saxony.' livery. Meanwhile, you could also ride through New York City on 'Simply Saxony'-branded rental bikes, explore London in a double-decker bus decorated in eye-catching green and, on a clear day, see the "Simply Saxony'-branded hot-air balloon floating across the sky.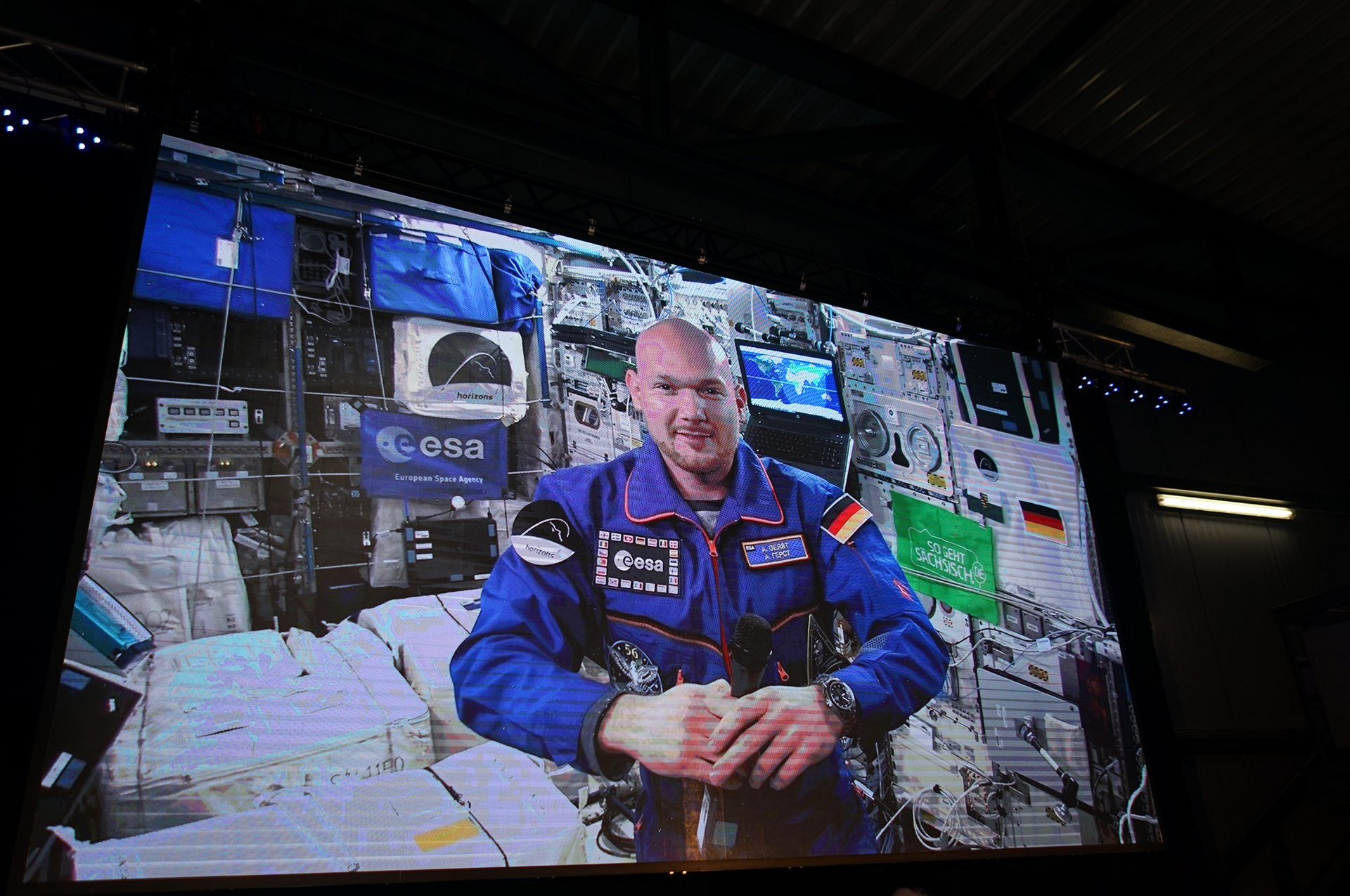 Saxony returns to space
What began with Sigmund Jähn on 26 August 1978 was continued 40 years later to the day - on 26 August 2018: Saxony in outer space. This time it was geophysicist and ESA astronaut Alexander Gerst (@Astro_Alex), who reported to Morgenröthe-Rautenkranz, Sigmund Jähn's (Germany's first astronaut) birthplace, via livestream from onboard the International Space Station ISS.
Gerst had also taken a 'So geht sächsisch.' flag with him into Earth's 400-kilometre orbit, thereby taking the campaign into space. The live video on Facebook recorded over 126,000 views, and the Facebook page has a total of more than 164,000 fans.
'Simply Saxony.' on the social web
Since September 2013, 'So geht sächsisch.' has already had its own Facebook page, to which around 164,000 fans have so far subscribed in order to remain in the loop. On Instagram, about 36,700 people follow the campaign account @simplysaxony, with about 190,000 posts having used the #simplysaxony hashtag to date. To ensure the discussion on the social web appears in as many channels as possible, a Twitter account was also created in 2017. This verified account already has more than 7,000 followers. All videos published as part of the campaign can be found on YouTube, and have so far been viewed more than four million times.
Influencers create trust among target groups
Acceptance by the target audience is essential for the success of the campaign, which is why we are happy to work with influencers on various topics. They report on key topics from their point of view as part of numerous special features, with classics including blogger trips and the topic of 'culinary delights'. But there was also a special feature on the royal wedding, and on issue of electric mobility. Another form of co-operation is film projects. The #DraussenInSachsen film series encompasses 13 short films presenting the Free State from a individual professional perspectives. A total of 150 videos have already been produced as part of the campaign, and are shown both on the Internet and in cinemas.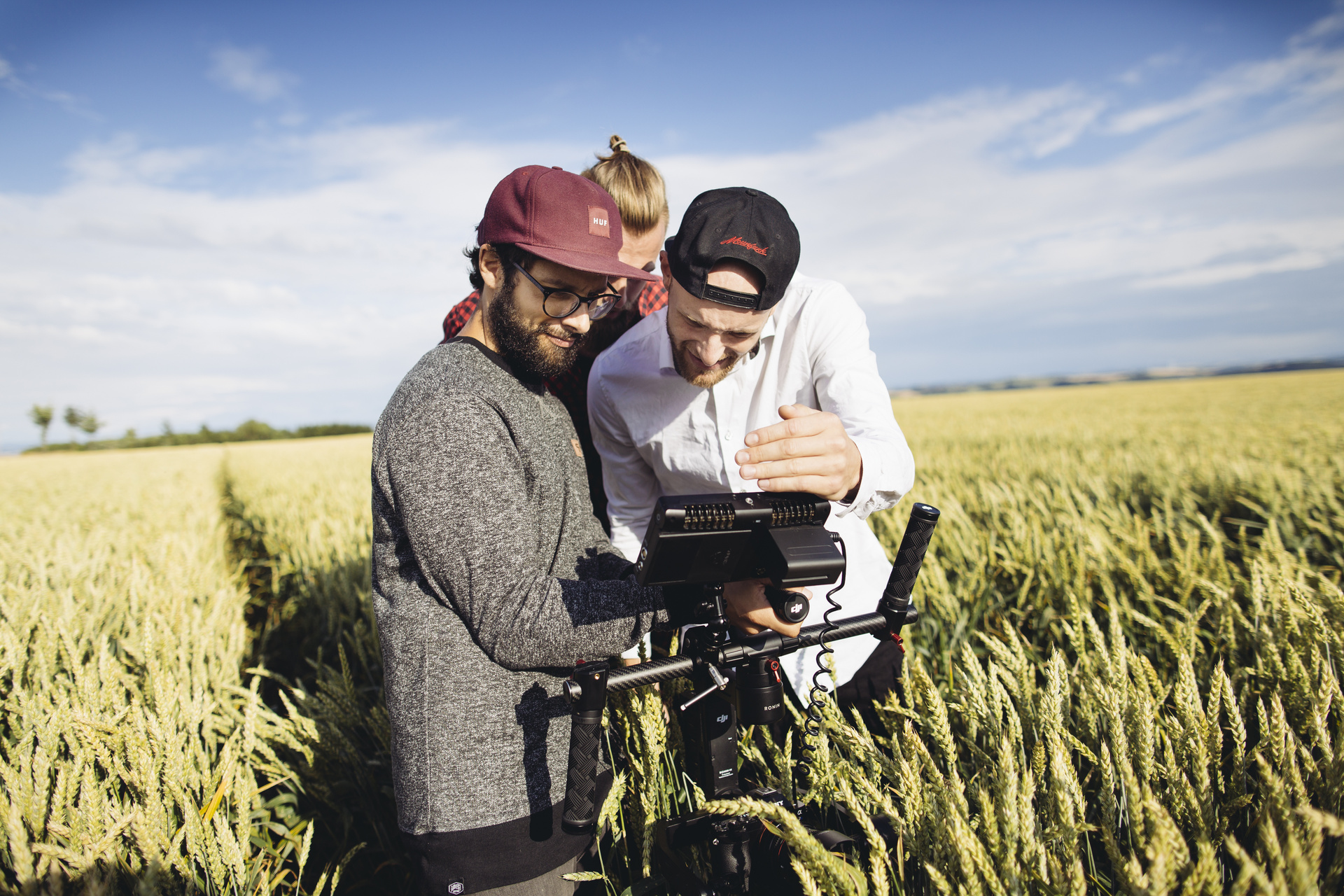 Business and science always in focus
As an advertising partner, we align with exclusive event formats that attract important opinion-leaders and decision-makers to Saxony. This often results in co-operations with renowned media houses, as evidenced by our publications. Trade-fair stands nationally and internationally feature the 'Simply Saxony.' ('So gehtsächsisch.') umbrella brand, with the on-site presence utilised to showcase the Free State, engage in conversation with interested parties, and distribute publications.
For example, a stand was shared with the Saxon State Ministry of Economics, Labour and Transport (SMWA) at the Expo Real in Munich in 2014. There were similarly exhibition stands at the 2015 Hannover Fair (in conjunction with the Saxony Economic Development Corporation (WFS)), at the 2015 International Green Week in Berlin (in conjunction with the Saxon State Ministry for Energy, Climate Protection, Environment and Agriculture (SMUL)), and at South by Southwest® (SXSW) in Austin, Texas. 'Simply Saxony' was also visibly represented at Science Match 2017, the NKF Summit, and Morals & Machines in 2019.
Art and culture - modern and international
Saxony is internationally renowned for its rich cultural landscape, so it's only logical to support Saxony's creative artists, as representatives of this diversity, on their travels. On this basis, we have developed co-operations that have taken the 'Simply Saxony' campaign all over the world. In 2014, for example, we accompanied the multi-award-winning Dresden cellist Jan Vogler to London; and the year before, we travelled to New York with Leipzig's Thomanerchor boys' choir. We also work successfully with representatives of modern art, such as graffiti artist MadC, the master breakdancers from The Saxonz, or the makers of the ibug festival.
Award-winning work
The 'So geht sächsisch.' ('Simply Saxony') campaign has already received several awards:
Winner of the PR REPORT AWARD in the 'Image and Motion Picture' category.
2x shortlisted for the PR REPORT AWARD
2x bronze in "DIE KLAPPE" for PR films
Winner of the WEBVIDEO AWARD in the 'Sport' category
1x gold and 2x silver in the "THE GOLDEN CITY GATE" ITB Film Award
CERTIFICATE OF EXCELLENCE for 'Best Use of Facebook' at the internationally renowned SABRE AWARDs